Big boy converse...
I love converse sneakers. In fact, I'm not even sure how many pairs of low top chucks I've gone through since I acquired my first pair. Easy, comfortable, and appropriate for occasions ranging from taking out the trash to black tie affairs; what is not to love about this classic of footwear?
Not one to shy away from the opportunity to inflict knitted creations on others; I realized that the new baby would be in dire need of hip and stylin' kicks. In fact, here's another one of the pictures from the proud poppa-to-be's blog at
http://brandxsketch.blogspot.com
where he's rocking the same flavor of shoes.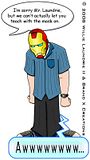 Rock them shoes too Mr. Laundrie!
As always,
Ravelry
comes to my rescue. I used the pattern
here
that had been modified by xalleykatx on livejournal. After knitting up the booties and laces, I did go all in and got some white felt, sharpie'd a star and stitched them to the outside with matching embroidery floss.
Not-so-big boy's chucks
One of the things I liked most about this project was the reaction of the adults that saw them. While I was blocking them with little paper towels inside, my boyfriend came home to find them on the counter. Even though I was in the bedroom, I still heard his 'that's so cute' voice/squeal saying, "OOOO! WEE LITTLE BOOOOTIES!". I'm not sure if I smiled wider at that or the postal clerk who thought they were darling and couldn't resist commenting as I mailed them off. There is something about a stranger commenting on something I've made that makes me feel like I did as a kid when my artwork secured a coveted spot on the refrigerator gallery.