Another Wow story for you all. Over the summer my idle hands got the itch to knit again. Frustrated with all of my wips (works in progress), I asked my WoW playing friends for suggestions on projects to do.
I'm partial to making hats, so when my guildmate (we're both in
Anxiety
on Perenolde),
Butterballs
, mentioned that he wouldn't hate it if I sent him something, I jumped at the chance. After quizzing him thoroughly, I found out he liked what I consider to be one of the fugliest (not a typo) colors ever. Fortunately for him, I found a yarn that's somewhat similar to what he was describing. I eventually swallowed down the bile that had come up after seeing it, and knit him a hat.
Ear flaps, tassels, and a pompom later; this atrocious creation came into existence. Not so sadly, this is my only picture of said abomination. A warm welcome to Kevin (aka
Steelrain
), for bravely wearing and being the model of this monstrosity.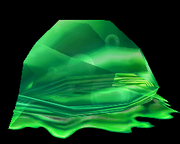 Disgusting Oozling - similar color, no?
I ended up sending it and (despite the hat) Butterballs still talks to me on WoW. Is this where I mention that it takes all kinds to make up this world?